Our blog section is filled with recipes, kitchen tips, as well as the latest news from Romeo's
Laura Sharrad shows us how to make the perfect Spaghetti Verdi using Di Martino Pasta and fresh produce from Romeo's! Serves: 4

Featuring some of Australia's favourite brands & recipes to inspire you this festive season

Featuring some of Australia's favorite brands & recipes for this festive season.

If you're on the fence about what's on tonight's dinner menu, let us give you some reasons to put seafood at the centre.
If you're planning to throw that next big party, or you are just planning a quiet picnic for two, why not order one of our new
Smarter shopping starts here
Earn rewards • Manage your shopping budget • Achieve your health goals • View your shopping list • Compare similar shoppers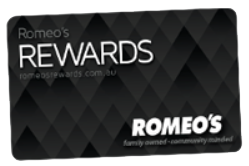 Romeo's Gift Cards now available in all stores!
Romeo's Online. Fresh from our store to your door.
We are a proudly SA owned and operated company and are excited to bring the exceptional quality and outstanding service present in our stores onto an online platform.