Discounts, savings, rewards. All the good stuff can be found here.
Smarter shopping starts here
Earn rewards • Manage your shopping budget • Achieve your health goals • View your shopping list • Compare similar shoppers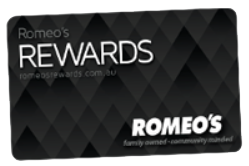 IMPORTANT INFORMATION
Dear Valued Customers, as of Friday September 1st 2023 all Romeos Bonus Point Stores will convert in line with all other store's Rewards Program as per our terms and conditions. Selected stores may offer Bonus Points on certain promotions.
All Romeo's Supermarkets offer a Pensioner Discount of 5% every Thursday
Discount does not apply to cigarettes, alcohol, gift cards, phone cards and Romeo's store specific catalogue specials
Romeo's Gift Cards now available in all stores!
Romeo's Online. Fresh from our store to your door.
We are a proudly SA owned and operated company and are excited to bring the exceptional quality and outstanding service present in our stores onto an online platform.