Christmas trading hours now available!
Find your local store and opening hours.
Don't forget to grab your Romeo's Rewards Card before you go shopping!
Smarter shopping starts here
Earn rewards • Manage your shopping budget • Achieve your health goals • View your shopping list • Compare similar shoppers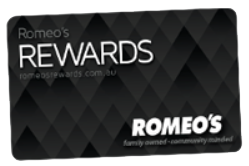 Romeo's Gift Cards now available in all stores!
Romeo's Online. Fresh from our store to your door.
We are a proudly SA owned and operated company and are excited to bring the exceptional quality and outstanding service present in our stores onto an online platform.