Our blog section is filled with recipes, kitchen tips, as well as the latest news from Romeo's
If you're on the fence about what's on tonight's dinner menu, let us give you some reasons to put seafood at the centre.

Chef Orazio returns to cook up another recipe using the freshest ingredients from Romeo's.

Chef Orazio returns to cook up another recipe using the freshest ingredients from Romeo's.

Winter Favourites recipes fresh from local food producers to share with family & friends. Download it for FREE here!

Chef Orazio returns to cook up another recipe using the freshest ingredients from Romeo's.

We've had a facelift. Romeo's Foodland in Erindale is looking fine!

Makes approx. 20 cookies Dairy free
If you're planning to throw that next big party, or you are just planning a quiet picnic for two, why not order one of our new
Smarter shopping starts here
Earn rewards • Manage your shopping budget • Achieve your health goals • View your shopping list • Compare similar shoppers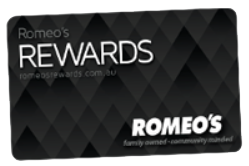 At Romeo's we are proud to announce that all of our Romeo's own brand fresh chicken is now 100% RSPCA Approved!
Join Romeo's in supporting an end to cage eggs. Romeo's is proud to only supply cage-free eggs, and in selected stores Rohde's Free Range RSPCA Approved eggs are available.
Romeo's Gift Cards now available in all stores!
Romeo's Organic Wholefoods is an Organic Supermarket and Health Food Shop specialising in Organic and Alternative foods. It is dedicated to providing environmentally friendly products that help to care for our planet and our health.
Wigley reserve, Glenelg, Adelaide
The Dream Ride Experience is a day showcasing cars and family fun, all benefiting a worthy cause.
Romeo's Online. Fresh from our store to your door.
We are a proudly SA owned and operated company and are excited to bring the exceptional quality and outstanding service present in our stores onto an online platform.