Our blog section is filled with recipes, kitchen and shopping tips, as well as the latest news from Romeo's. Have a poke around and you're bound to find something useful!
If you're looking for some fresh food ideas to share with family and friends this Christmas, download the FREE Romeo's Summer Fresh recipe book with 22 Christmas recipes.

Dream Ride began in the USA in 2001 to raise awareness and funds for people with special and intellectual needs. Romeo's and Balfours united in 2016 to send people...

The smallest of hands can be surprisingly good in the kitchen, get those sleeves rolled up for some good cooking fun with your kids.

Romeo Retail Group owners, Tony and Elisabeth Romeo, are celebrating after being inducted into the prestigious IGA Hall of Fame national award at the annual Independent Grocers of Australia...

This is probably the quickest "cheat quiche" that you can possibly make – and it's deliciously golden and oh-so-tasty too!

This is my go-to quick comfort meal that is delicious and full of veg (so I feel healthy eating it!)

Just when you thought hot cross buns couldn't get any better! The perfect Easter breakfast.

There are some things in life that, had you only known them before, could have saved you a whole bunch of mission and effort.

Join Romeo's in supporting an end to cage eggs.
If you're planning to throw that next big party, or you are just planning a quiet picnic for two, why not order one of our new
Smarter shopping starts here
Earn rewards • Manage your shopping budget • Achieve your health goals • View your shopping list • Compare similar shoppers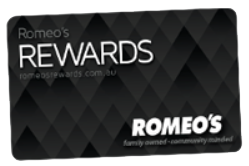 At Romeo's we are proud to announce that all of our Romeo's own brand fresh chicken is now 100% RSPCA Approved!
Join Romeo's in supporting an end to cage eggs. Romeo's is proud to only supply cage-free eggs, and in selected stores Rohde's Free Range RSPCA Approved eggs are available.
Romeo's Gift Cards now available in all stores!
Romeo's Organic Wholefoods is an Organic Supermarket and Health Food Shop specialising in Organic and Alternative foods. It is dedicated to providing environmentally friendly products that help to care for our planet and our health.
Wigley reserve, Glenelg, Adelaide
The Dream Ride Experience is a day showcasing cars and family fun, all benefiting a worthy cause.
Romeo's Online. Fresh from our store to your door.
We are a proudly SA owned and operated company and are excited to bring the exceptional quality and outstanding service present in our stores onto an online platform.